Professional Domination Recommendations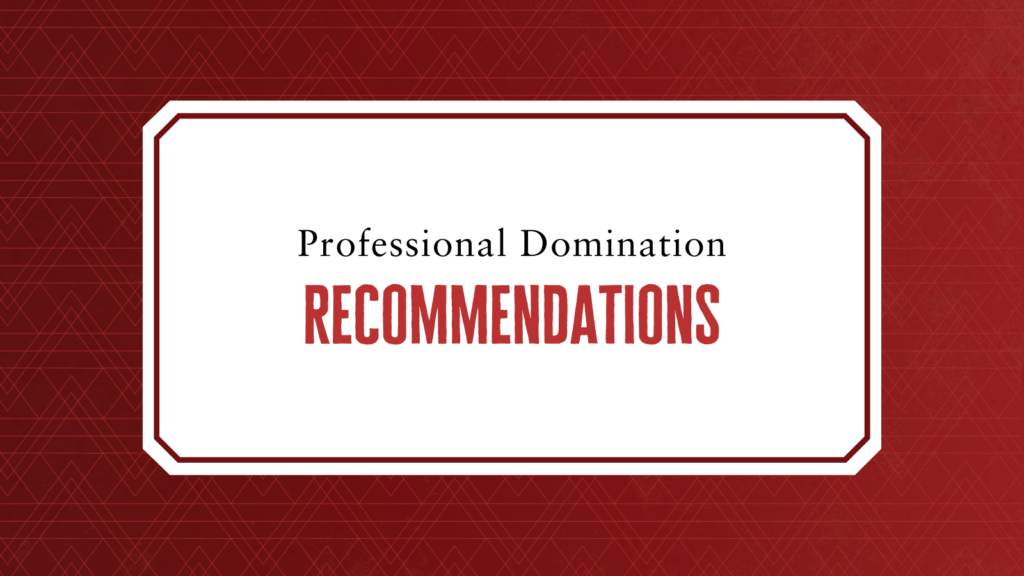 I've been retired from the Professional Domination world for quite some time. If that's what you're looking for, save us both the trouble and call one of these lovely ladies instead, who I would personally recommend to help you scratch that itch.
This is by NO MEANS a complete list of Professional Dominants who offer humiliation, or even a completely list of every Pro Domme that I know that does humiliation. But it's a good start with a wide variety of women in a wide range of locations. I'll update this list occasionally. Do NOT contact me further to request recommendations, that's why I created this list.
Also, if you're interested in doing sessions with Professional Dominants I recommend you attend DomCon (they have one in LA and New Orleans every year). It's a great way to meet these women and explore the world of Professional Domination.

I've linked to their websites which will have information about booking a session. I tried to include their usual location, but many of them travel both nationally and internationally.
PS – Bonus point for the submissives that offer to buy any of these Women my erotic humiliation book!
________
In No Particular Order – (I'll be adding more of these little descriptor blurbs over time, until then, just click on the link to find out more)

Alice In Bondageland – San Francisco, CA –  (She says… "I specialize in "laughing at your predicament" style humiliation more then the destroy-your-confidence kind")
Ceara Lynch – Portland, OR – (doesn't do in person sessions but is infamous on cam/phone)
Domina Snow – Columbus, Ohio – (Owner & Founder of Wicked Eden, a BDSM wonderland of sessions & FemDomme videos)
Kelle Martina – Columbus, Ohio – (One of the lovely Wicked Eden Ladies, with a sweet girl-next-door look that hides a sadist!)
Eve Minax – San Francisco, CA – (An avid medical play enthusiast who also enjoy bondage & lots of other pervy fun stuff)
Irene Boss – Pittsburgh, PA – (A legendary Dominatrix, she'll blow your mind doing just about any kinky thing she imagines.)
Mistress Servalan – Sydney, Australia – (Wicked, witty & wonderfully sadistic all describe this elegant Aussie Domme)
Mistress Simone – Chicago & St Louis – (Brilliant and beautiful, she's an old-school Domme who is well-versed in a huge range of ways to play)
Elena DeLuca – New York, NY – (Owner of Fascist FemDomme, she's both strict & sensual)
Maitresse Renee – Dallas, TX – (this Southern Belle is always smiling, & you should be delightfully afraid of that!)
Goddess Phoenix – Atlanta, GA – (Powerful and intimidating in all the right ways)
Rebecca Knox – Los Angeles, CA – (Elegant & cruel, her wit will turn you into a fool, and you'll thank her for it)
Dante Posh – New York, NY
Natalya Sadici – Chicago, IL – (I think of Natalya as a quiet power, she doesn't need to shout at you to bend you to her will. But bend you will ;)
Princess Marxx – Los Angeles, CA & Boston, MA – (I've known this lovely lady since she got her start at my Footnight events. She's classy & gorgeous!)
Jada Sinn – Boston, MA
Sheri Darling – Orange County, CA + Los Angeles, CA
Penny Barber – San Francisco, CA – (Has a sexy mix of being adorable, cute, and super sensual. Specializes in ADBL & Age Play)
Vinyl Queen – San Francisco, CA
Mistress Absolute – London, England – (I think of this dynamite woman as a Domination Tornado, you should be ready to be destroyed, but you know, in an awesome kinky way)
Bella Vendetta – Western MA
Mistress Jadis – Sydney, Australia
Mia Action – Philadelphia, PA – (I've been mentoring Mia for awhile and have found her to be creative, insightful, and a total natural)
Martine Phoenix -NYC