Curious about the hows and whys of erotic humiliation?
Go Behind the Blush with Princess Kali!
The updated and expanded edition of her seminal guide to this misunderstood kink, Behind the Blush: Exploring Erotic Humiliation, is the centerpiece of her brand new BLUSH series, featuring three books and three humiliation decks designed to take your understanding—and enjoyment—of erotic humiliation to the next level.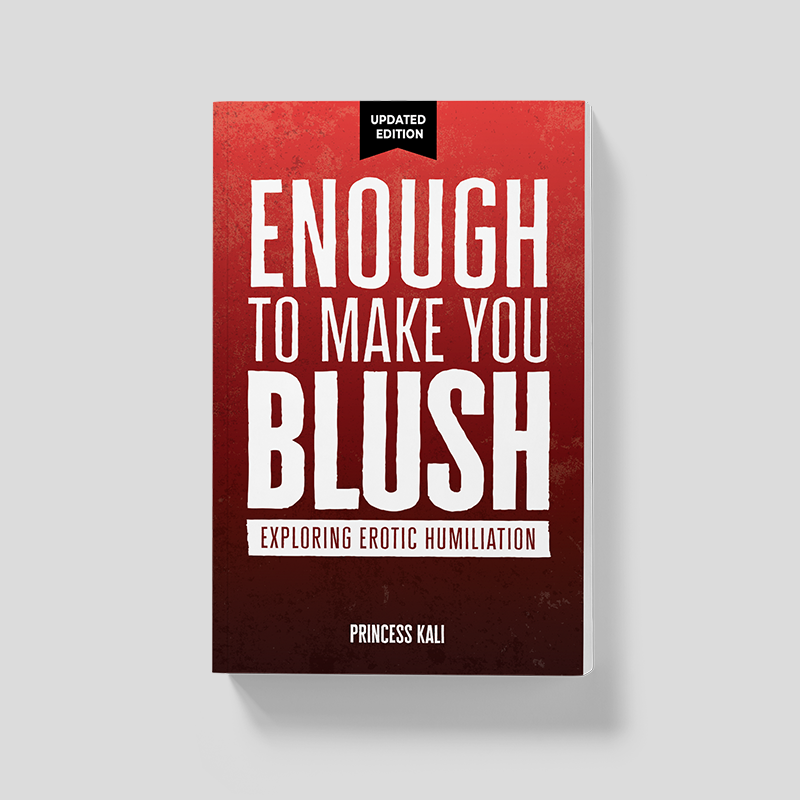 Enough to Make You Blush:Exploring Erotic Humiliation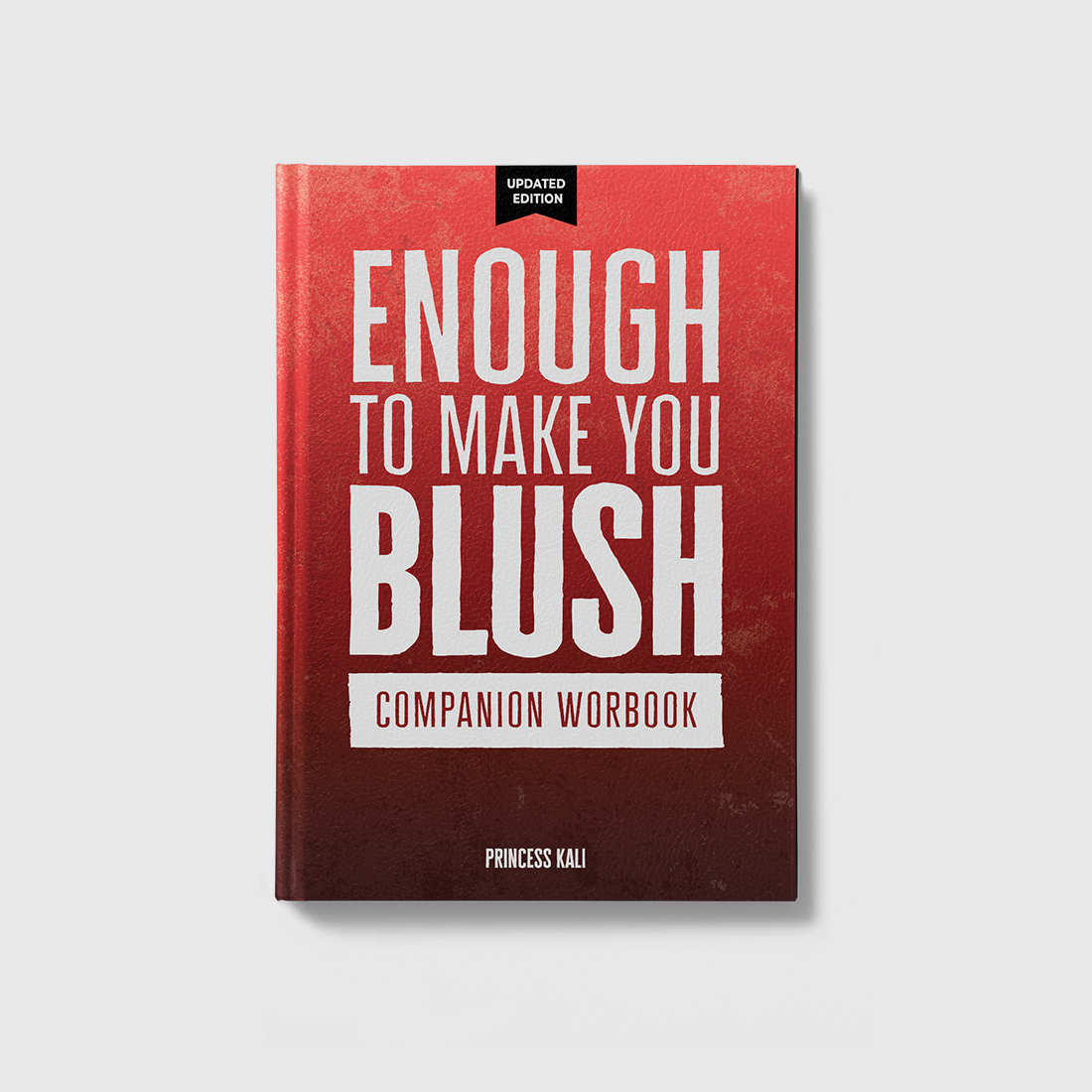 Enough to Make You Blush:
Companion Workbook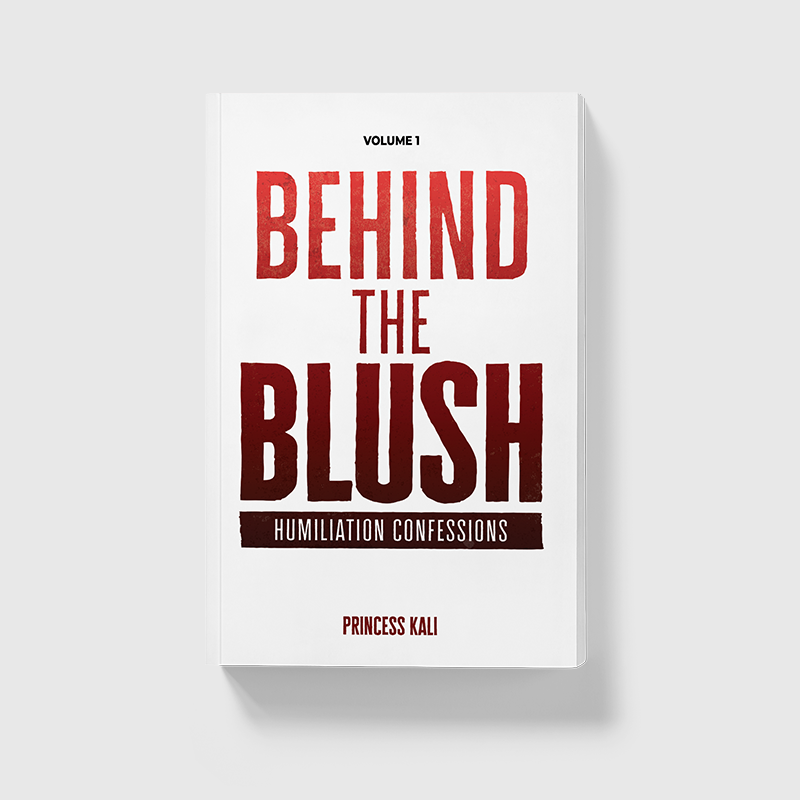 Behind the Blush:
Humiliation Confessions, Volume 1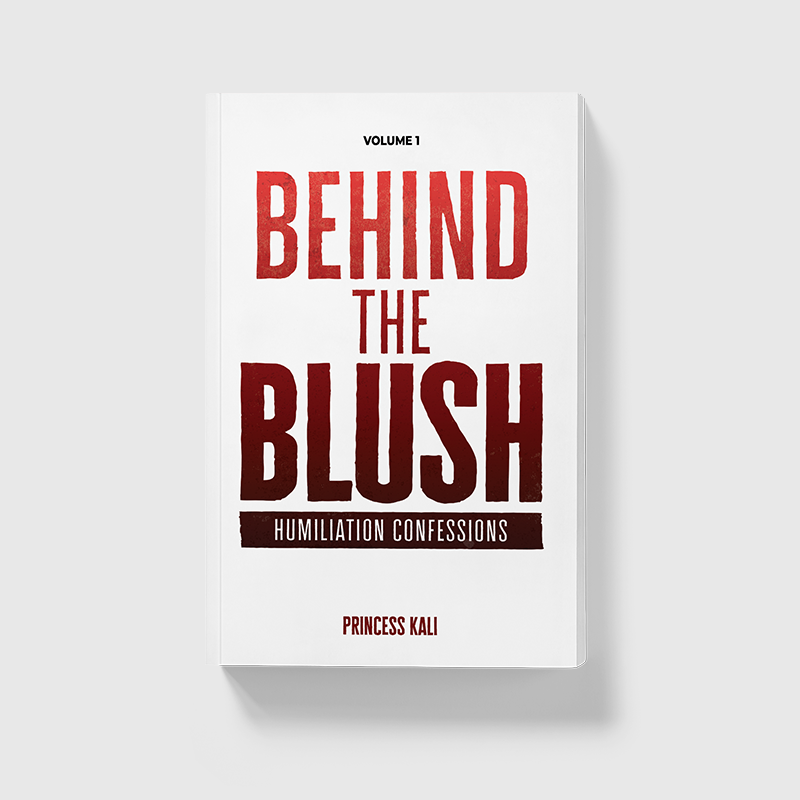 Behind the Blush:
Humiliation Confessions, Volume 2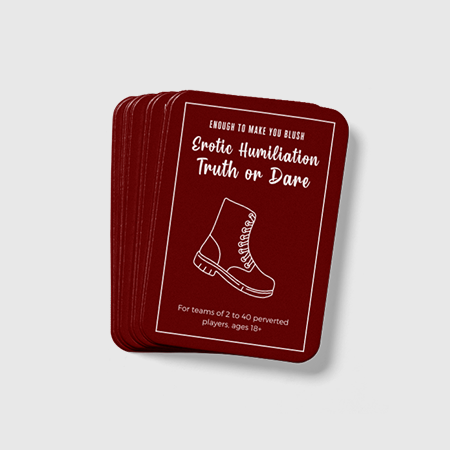 Erotic Humiliation
Truth or Dare Deck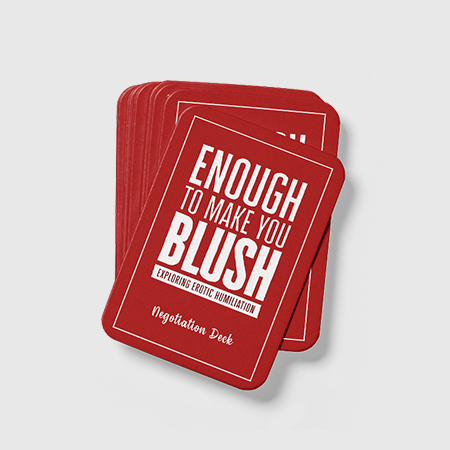 Enough to Make You Blush:
Negotiation Deck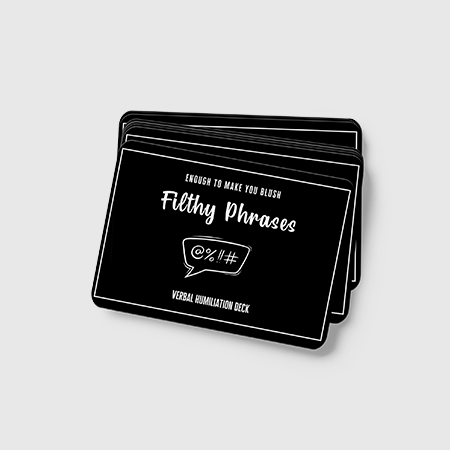 Filthy Phrases:
Verbal Humiliation Deck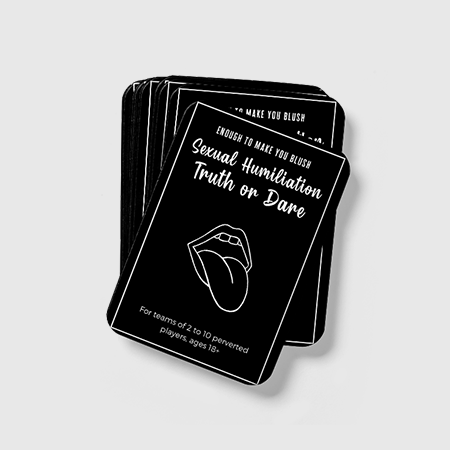 Sexual Humiliation
Truth or Dare Deck
Notify me when Blush is released!
Despite talking about shame and embarrassment, this book does a great job of normalizing erotic humiliation as a kink. It does not act as a gatekeeper for what is and is not acceptable and contains personal accounts from other kinksters' experiences with erotic humiliation.
Yesterday, I finished reading Princess Kali's book Enough to Make You Blush. I have to say that while it's ostensibly about erotic humiliation, it covers far more than that. Most books on kink focus on tangible skills like tying knots or how to spank someone. That's good stuff, but those guides almost always leave out any info about the psychological side of BDSM. This book will give you lots of tips for how to get inside someone's head to heighten desire, arousal, and pleasure. There's also plenty of useful tools for managing emotional safety and how to negotiate these aspects of a scene. If you're interested in kink or if it's something you do, I highly recommend this book. It doesn't matter if you're into erotic humiliation or not. There's something here for you.

– Charlie Glickman, author of The Ultimate Guide to Prostrate Pleasure
This book is a fantastic introduction to the subculture surrounding and practice of erotic humiliation. It's friendly and clear while being informative, yet not overwhelming. Erotic humiliation, given its taboo and potentially emotionally charged nature, can be hard to approach, especially by someone whose sexual identity is intrinsically linked to humiliation. I can see this book being used by people who are trying to figure themselves out, introduce their needs to sexual or play partners, and inform others of the nuts and bolts behind these specific desires. In addition, this would be a great resource for professionals hoping to become humiliatrixes themselves! I recommend this book if you have any interest, even a passing one, in erotic humiliation.
Overall, if you have an interest in any type of humiliation play, Enough to Make You Blush is a must-have book. It's mostly directed towards the dominant partner, but it still includes a lot of good information that a submissive-type could learn as well. The writing is entertaining, the book covers a large variety of humiliation kinks, and the book makes it easy to skip over any chapters that turn you off. It's a fantastically done book.  

– Mistress Kay of Kinky-World.net
Fantastic! There is NO other resource out there on Erotic Humiliation, and Princess Kali is the perfect person to have gathered tons of quotes and put them all into a readable, fun book. Her instructions and examples are inspiring and easy to replicate, and she makes all sorts of complicated play sound accessible and possible. If you're into psychological BDSM play at all, you gotta read this!"

– Sinclair Sexsmith, kink educator/author & founder of SubmissivePlayground.com
Even if you don't have "humiliation play: into everything about it" checked off as a fetlife fetish (or have no idea what I'm talking about), you'll still come away from this book with tons of play ideas and a deeper understanding of safe & sexy ways to evoke responses in your partners. Kali shares tons of personal stories that illuminate her lessons about humiliation, and also includes anecdotes from dozens of other experienced kinksters, resulting in a balanced and nuanced treatment of this very difficult topic. I especially enjoyed chapter 6: "Using your Words: Incorporating verbal play"- one of the more common questions I hear about this type of play is from people who want tips on keeping the verbage flowing, and there are SO many tips and tools provided here. Highly recommended!"

– Shay Tiziano, kink educator & founder of Twisted Windows
Erotic Humiliation is a complex topic and devotees will know that it's actually quite difficult to find quality, detailed information on this area of kink. Enough to Make you Blush reflects both Princess Kali's years of lifestyle and professional kink experience as well as her formidable intelligence and sensitivity. Her sense of humour and down to earth approach make this an enjoyable as well as informative read.

– Ms Jadis, Professional Dominatrix
I first heard of Princess Kali when I was doing foot fetish sessions in Boston. All the footboys there mentioned her, so I figured she was a good Domme expert to follow. So when I found out she had written a book, I knew I had to order it. Turns out, the subject was Erotic Humiliation, a type of play I was beginning to incorporate into my own BDSM business and lifestyle. There are lots of how-to guides to traditional Domination out there (of varying degrees of quality) but this is the ONLY one about humiliation play. It's an easy read with lots of suggestions that can be used in real-time sessions AND phone or distance training, which I appreciate since many of my own slaves are far away. I believe the book has made me a better FinDom and FemDom, as it has given me some new devious, playful, and sensual ideas on how to torture and tease my subs. If you fancy yourself a true Humiliatrix, don't miss this book!

– Princess Fawn, Los Angeles
Erotic humiliation finally has a resource guide that every kinky person will want to own! Well-known presenter and Humiliatrix, Princess Kali, teaches you how to embrace the moments of embarrassment and pleasure to deepen scenes and relationships. Her candid and humorous true stories are the perfect compliment to the necessary safety information you must have to make erotic humiliation spark for you. She provides you with plenty of deliciously devious ideas, creative verbal assaults, subtle public play and hot displays of embarrassment and erotic shame that will leave you squirming in your seat. Enough to Make You Blush gives you a powerful item in your SM arsenal to bring your most secret 'embarrassing' fantasies to life.
When I picked up Enough to Make You Blush I thought it was a book about what other people did. I finished it in one sitting and came away with a deeper understanding of my own kink as well as my partners. This is far more than a how-to manual. It shines a light on a misunderstood and underestimated part of the human psyche, and shows how erotic humiliation can actually bring people closer through trust, vulnerability, and strength. Whether you indulge in erotic humiliation or just want to understand kink better, you need to read this book.
An excellent treatment of an often-misunderstood topic. Highly recommended!

– Jay Wiseman, Author of SM 101: A Realistic Introduction
A go-to guide on erotic humiliation and how to translate your most shameful fantasies into hot, respectful and consensual realities.

– Dr. Gloria Brame, author of Different Loving
Kali is a brilliant kinkster and an excellent writer. Her stories are certainly entertaining and helpful. I strongly recommend getting this book!

– Fan on Fetlife
I have bought a lot of books on the topic(s) of BDSM, erotic humiliation, and female domination and I can honestly say this has been my absolute favorite so far. Princess Kali is so, so relatable. She shares her own (and others') experiences, destigmatizes and encourages a safe, sane approach to kink. Amazing stuff, such a worthwhile read. Thank you!

– Oliva Duval
A perfect blend of first hand experiences from real kinksters, collected by an expert who knows who to ask the right questions, the right way, document the right answers and doubles the value by adding her experiences. You could not really ask for more. I also attended one of her classes. The lists/summary and wrap ups specifically are very inspiring.

– ninjakillerbees
Listen to Rachel Kramer Brussel on 'Unprintable' (the official LitReactor podcast) talk about the book!
A really enjoyable and ultimately useful read, Enough To Make You Blush: Exploring Erotic Humiliation is the perfect guide for anyone wishing to explore 'vulnerability, trust, control, and sacrifice through absurdity, amusement, and consensual cruelty.'
Enough To Make You Blush is an excellent read for anyone who's looking to add something to their game from the mild soccer mom to the wild Mommy Domme (fun fact: I just read this for my FemDom bookclub!). Your first step into erotic humiliation is acquiring the book.
Sign up for special announcements!