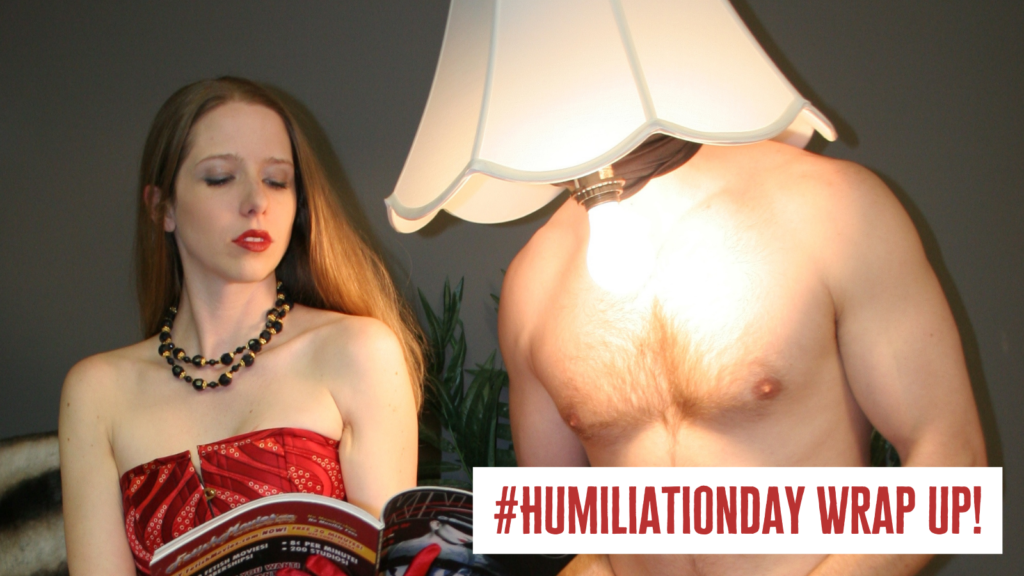 Did it seem like you'd never heard of "National Erotic Humiliation Day" and then suddenly saw my twitter timeline flooded with tweets about celebrating it?
Well, that's exactly what happened!
Late in the evening on October 22nd, I was thinking about Halloween and the kind of explorations it inspires. For most people it's rare to have the chance to dress up and be someone or something else.
Halloween is a day of liberation for so many people, the chance to let a "freak flag" fly under the guise of sanctioned tomfoolery.
It's a day of costumes and face masks and nearly universal permission to act completely unlike yourself. Wearing the mantle of Halloween allows for behavior you'd never usually indulge in. That's exactly why it's such a celebrated national holiday. Americans love an excuse to let loose.
This social freedom is especially felt by women acting/dressing "slutty" (when that's not their norm), and for masculine men to cross-dress with full flair.
Halloween gives people a cover to explore taboo's and be someone they usually can't be. Kink does the same thing.
Like a flash of perverted brain-lightening(TM) the thought of creating a day to celebrate adventures in erotic humiliation struck me and I realized I had less than a week to prepare. But that's never stopped me before, I'm a believer that some things are better done fast than done perfectly. So I whipped up a few graphics, started tweeting and posted on Fetlife.
I super appreciate the kinksters that joined me on such short notice to celebrate on Twitter, on Fetlife (and here), on Instagram and Tumblr. Here are a few of my favorite posts from the day:
I look forward to getting the word out more thoroughly next year, obviously I didn't give anyone else much time to prepare (or even know about it!) nor did I plan for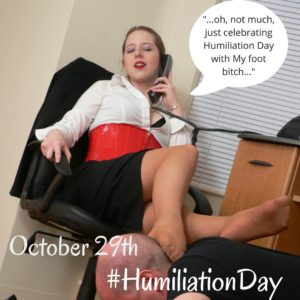 world-wide interest (and time-zones) like I should have!
In 2017 Humiliation Day will more be more inclusive, well-known, and fun for humiliation enthusiasts around the world to celebrate!
Annually 'National Erotic Humiliation Day' will be celebrated on the 4th Saturday in October, so next year that will be…
October 28, 2017 – I'll see you then!
Save
Save
Save