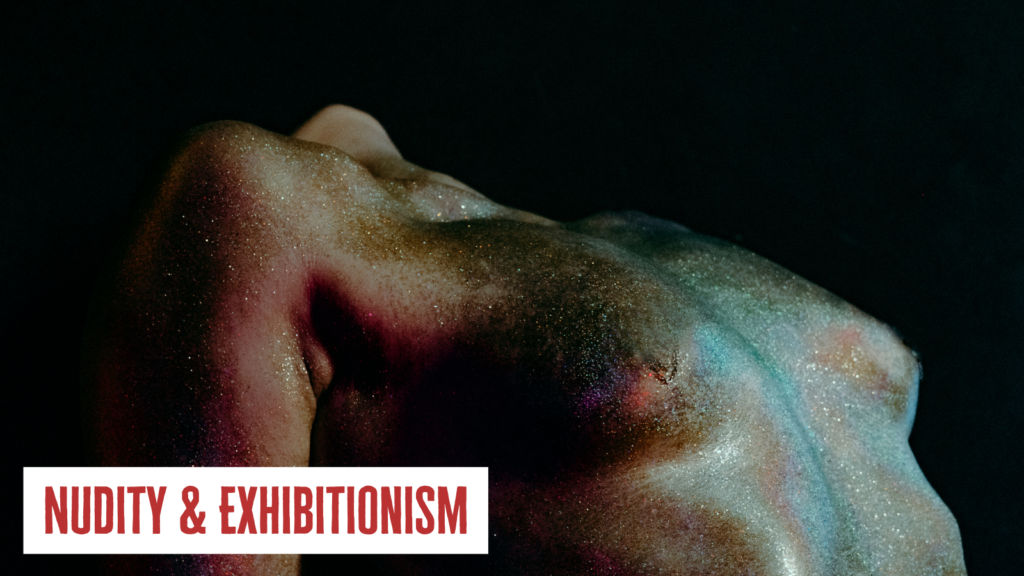 Nudity is a powerful social taboo to play with. Even in 2016, in the US we're still afraid of nipples being exposed and  feeling scandalized when a man shows frontal nudity on Showtime.
By society's standards, being naked in front of others makes you either a slut or a pervert or both!
(I'm in the 'both' category, thank you very much!)
Even for people who enjoy being naked in front of others, there are some excellent social taboos to play with. The enjoyment of being naked in front of others can have an extra emphasis of sluttiness. Or if the submissive is shy and experiences erotic shame at being exposed, then the emphasis can be on the vulnerability and the power dynamic of being denied clothing. This is also at the core of "Clothed Female Naked Male" which is segment of popular FemmeDomme pornography.
I was talking to Axe, the host of Masocast recently (for a podcast that will be posted in April), and we discussed the experience of "erotic slut-shaming", an accurate way to describe what is probably one of the most desired versions of erotic humiliation. In my recent verbal humiliation survey, "slut" was the most lusted-after humiliating phrase with more than 75% of people indicating it's one of their favorite phrases to use in scene, either to call their submissive or to be called by their dominant.
So turning a submissive into a "show-off slut" is likely a good low-level way to start playing with erotic embarrassment.
The classic examination session is usually a good one. Remember that we're not doing body-shaming here (unless that's been VERY specifically negotiated) so instead think more of sexual objectification. Command your submissive to strip down, stand with their legs spread, and put their hands on their neck in order to fully reveal their body. Maybe have a little notepad or clipboard with yellow sheet paper on it to make notes about how their "slut responses" are working.
Turning the submissive into art or furniture while naked is also an excellent way to play with exposure & sexual performance, as long as they don't get bored. If you have a submissive as a foot stool or standing statue, you can also put nipple clamps with bells to heighten their awareness of their exhibition
Other than nipple clamps, you can also heighten their feeling of exposure by leaving a single article of clothing on them. My personal favorite is pants/panties around the ankles, which also hobbles them as I force them to walk around the play space. You can also use other items of clothing or bondage to accentuate their nudity such as special shoes, a collar or a simple bondage harness.