Celebrate the First Annual 'National Erotic Humiliation Day'!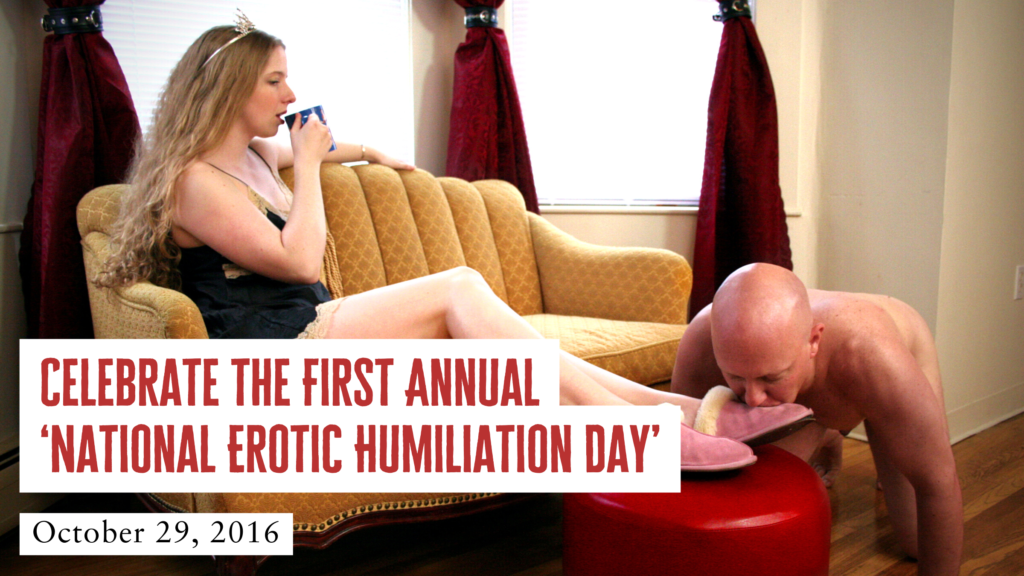 As the author of the first book dedicated to the joys of erotic humiliation, I've decided to launch a day of celebration for this oft-misunderstood fetish. This will be a day to share your experiences, post fun photos, meet fellow humiliation enthusiasts online and learn more about the fabulously fun kink for erotic humiliation!
Annually 'National Erotic Humiliation Day' will fall on the 4th Saturday of October.
This year we'll be celebrating on October 29, 2016
Make sure you use the hashtag #HumiliationDay on Twitter & Instagram – where I'll be sharing tips & photos all day plus signal boosting your posts – follow me @Princess_Kali (on twitter) and EnoughToMakeYouBlush (on instagram) to see all the kinky, humiliating goodness! If you post on Fetlife, friend me here and send me a link (or post it in the comment section below!)
Ways YOU can celebrate:
Post your own photos on twitter, Fetlife and tumbler (see below for suggestions)
Confess your humiliation themed fantasies & share your experiences – dominants AND submissives, I'm looking at you!
Do you have a blog? Write a post about a humiliation themed topic (see below for suggestions!) and let me know so I can share in a blog round-up post here on my site (post in the comments too).
Buy my book this week to read & get ideas (yes, this is a shameless plug!) You can get it on Kindle for immediate download, or order it from me for an autographed copy (I'm shipping out next-day all this week!)
Humiliation Themes for photos, confessions and blog posts:
     Verbal Humiliation and Degradation
     Foot Fetish
     Objectification
     Being Turned into Furniture
     Dehumanization
     Sex & Masturbation
     Chastity & Orgasm Control
     Messy Food Play
     Sissification
     Nudity
     Bodily Functions
     Domestic Service & Cleaning
     Punishment & Protocol
     Playing in Public
     Financial Domination
I'm so looking forward to seeing your kinky creativity and I'm certain you dirty pervs can come up with even more ideas too!
Do you have another idea for celebrating the first annual National Erotic Humiliation Day? Share in the comments!
Save
It was the most precious #shoe dirt cleaning. Thanks #Goddess @Mistress1Chloe for humiliating me such a way #HumiliationDay @Princess_Kali pic.twitter.com/Soymv60Gmd

— worshipper (@cskl8080) October 29, 2016
@Princess_Kali #HumiliationDay 2 weeks of orgasm denial, I agreed to eat my own cum to amuse Her and be allowed release. Submissive bliss

— Sissy Melody (@sissymelody73) October 29, 2016
Totally agreed. Be respectful to others. Don't be obscene or rude or invasive. #HumiliationDay https://t.co/OlbbEtJvVX

— Princess Kali (@Princess_Kali) October 29, 2016
My favorite thing is the level of trust to let someone take you SO low knowing they care enough to lift u up again. #humiliationday

— Toby Dammit (@DammitToby) October 29, 2016
Sploshing for #humiliation is one of My FAVORITE ways to play – just look how messy & silly they look & how I happy I am! #HumiliationDay pic.twitter.com/g3UWfxbowG

— Princess Kali (@Princess_Kali) October 29, 2016
As it's #HumiliationDay here's a link to my blog of possibly the most humilating yet exciting day of my life 😊😊😊😊 https://t.co/Bjnh1FpBZR

— Cinnamon (@SissyCinnamon) October 29, 2016
#HumiliationDay task for #Sissies🎀

-Fill my DMs with pix of you filled up! Plug every slut hole of yours,using a dildo, cucumber, fist etc!

— Mistress Veronica (@MistressVixenn) October 29, 2016
Save