Purchase your paperback copy of Enough To Make You Blush: Exploring Erotic Humiliation on Amazon!
Purchase your Kindle Edition of Enough To Make You Blush: Exploring Erotic Humiliation on Amazon!
Purchase Authentic Kink: Create Your Best Experience on Amazon!
______________________________________________________
Are you interested in my classes and workshops? I frequently offer live online classes which can be attended from anywhere with good internet access. Event info is always posted on my blog, so keep your eye our for announcements there.
____________________________________________________
Brand New!!
Authentic Kink: Create Your Best Experience
Kinksters often have to depend on erotica and porn to learn what kink looks and feels like, but unfortunately that can create a lot of myths, misunderstandings, and accidental mistakes. BDSM is focused on activities, but just going through the motions won't guarantee you'll have a happy, healthy experience.It can take years (and plenty of bad scenes) to help you learn exactly what you enjoy and why. But it doesn't have to if you spend time reflecting on your needs and limits ahead of time.
In this workbook, Princess Kali will teach you how to have the most authentic and fulfilling kink experience possible. Over the last two decades in the kink scene, Kali has developed a straightforward method for discovering your most authentic kinky self. Journaling can be a great way to understand yourself. By putting your thoughts down on paper, it can be easier to self-reflect and examine insights more clearly. Exploring kink is a deeply personal experience; this workbook will help you have sexier, safer, more informed adventures.
Inside you'll find:
Personal evaluation
Space to write out fantasies and plans for future scenes
Over 100 thought-provoking questions
Extensive activity and interest list
Aftercare plan and trigger plan
Safewords and other verbal shortcuts
Creating rituals and protocols
Negotiation form
Verbal vocabulary list
Kinky wish list
And so much more!
$25 + shipping
*shipping takes 5-10 business days
*NO International Shipping, only in Continental US
Authentic Kink is also available on Amazon
______________________________________________________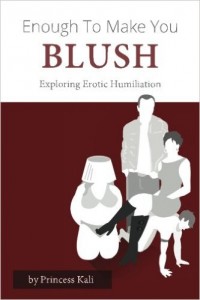 Enough To Make You Blush: Exploring Erotic Humiliation
Inside it you'll find:
+ The difference between embarrassment, humiliation & degradation
+ Why kinksters enjoy consensual psychological torment
+ Tips for communicating your desires for both dominants & submissives
+ The Top 10 Negotiation Questions + Bonus Questions!
+ An answer to "Can an activity be humiliating if you ask for it?"
+ Why you need both a trigger plan AND an aftercare plan
So many different ways to play, it could take you a lifetime to try them all!