Enough To Make You Blush: Full Package

The Full Enough To Make You Blush Package includes:
Autographed Paperback book
Verbal Humiliation deck
Truth/Dare deck
Workbook
1 month membership to KinkAcademy.com
Bonus! Service Bell (while supplies last!)
Enough To Make You Blush: Exploring Erotic Humiliation
Erotic humiliation goes far beyond the "Lick my boots!" stereotype. Princess Kali, a famous former Dominatrix and world-renowned Humiliatrix, throws open the dungeon doors to explore the complex desires that fuel this kind of psychological play for both dominants and submissives. Using both personal experience and extensive interviews she shares advice and detailed ideas for a broad range of embarrassing, humiliating, and degrading ways to enjoy consensual kinky fun. Also covered are important concepts such as communication, negotiation, consent, triggers, aftercare, and so much
Enough to Make You Blush: Workbook
Spiral bound and printed on thick, silky paper with a full color cover this workbook includes…
More than 100 Stimulating Questions
Erotic Humiliation Activity List – 5 pages
Negotiation Worksheet
Titles & Names Suggestions
Verbal Humiliation Vocabulary Suggestions
Space to write out fantasies, erotica & plans for future scenes
plus more!
Order the full package & receive both decks in a plastic double box!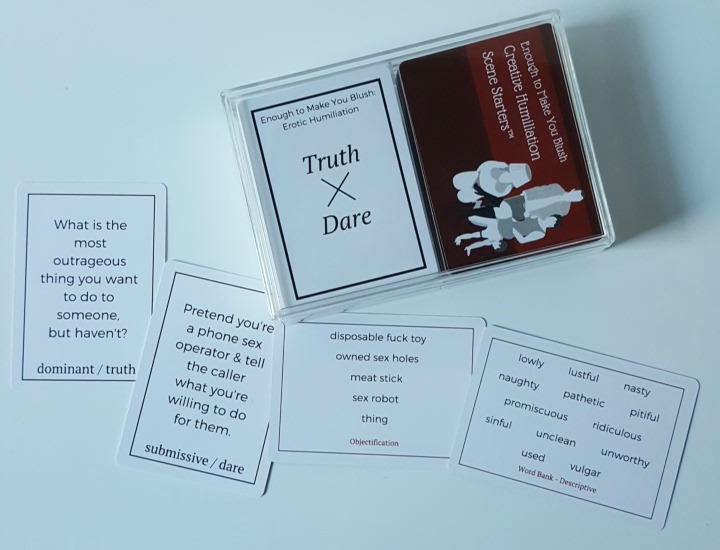 Verbal Humiliation Scene Starters Deck
Over 200 phrases in more than 20 categories, giving you a huge (and fun) resource to inspire your verbal humiliation play. It's a Pocket Pervert Thesaurus!
The poker-deck sized cards are bright, white, and glossy.
Humiliation Truth or Dare Game
13 Dominant Truths
13 Dominant Dares
13 Submissive Truths
13 Submissive Dares
1 Wordbank Card
3 Instruction Card
The cards are printed on durable white card stock the size of a standard deck of poker cards.
The game can be played with 2 to 40 people & can make a fun party game, or as playful inspiration for a private scene.
1-Month Membership to KinkAcademy.com
Kink Academy is a comprehensive library of sex-ed videos for adventurous, consenting adults. Whether you're new to kink or an experienced player, there's something for everyone to learn on Kink Academy. With over 2,000 sex-ed videos and over 160 sexuality educators, the Kink Academy Team works with sex educators from around the world to present the most diverse and experienced voices possible for your ongoing sexual education. The Web's leading resource for adult sexuality education in BDSM, polyamory, fetish, kink, swinging, and other sexual expressions that are commonly overlooked even in sex-positive educational materials.
Order it today for only $80 + shipping!
*shipping takes 5-12 business days
*International shipping now available!