Q&A: How do I bring a 2nd Dominant into my cuckolding relationship?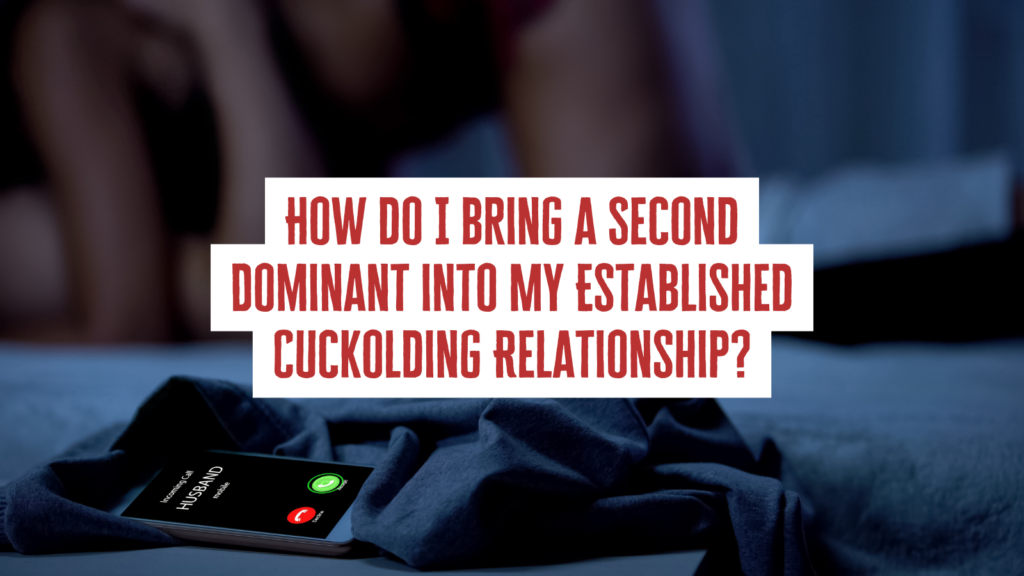 I recently received this email and thought it would make a great blog post to share my thoughts with everyone!
Dear Princess Kali,
I have read a lot about you and have seen many of your videos and I really appreciate what you bring to the kink community. Even though I have never heard you discuss cuckolding or polyamory, I thought you would be the best person to bring this dilemma to.
Over the past few years I have successfully trained my husband to be my service submissive. We have incorporated Domination/submission into almost all aspects of our lives. Over the past 3 months or so, [my husband] and I have been exploring cuckolding (I assume you know what that is), which has brought more long term chastity for [my husband] and more men for me.
After dating and exploring what is out there, I have found one lover who I would like to stick with. [My lover] like me, is very Dominant. I think it would fun (and hot!) to encourage him to establish his Dominance over [my husband]. I think it would bring about a new level of humiliation. I always like to find new ways to push [my husbands] boundaries. I realize that this will probably require allowing [my lover] to disciple [my husband]. What I want to ask is, how do you recommend I start? I realize it might be a bit difficult to bring in a second Dominant.
Thanks in advance!
~~~~~~~~~~~~~~~~~~~~~~~~~~~~~~~~~~~~~~~~~~~~~~~~~~~~~~~~~~~~~~~~~~~~~~~
My response….
Bringing a third partner into any established relationship is bound to have some bumps in the path. As long as both partners are genuinely interested then it can add whole new experiences to your sex life. Cuckolding is pretty popular, although it's not always talked about. I don't do cuckolding play personally, but have helped couples enjoy it in their relationship.
First even though there is an obvious power exchange in your committed relationship, I believe that a non-power based conversation needs to take place before moving forward. The biggest fun-stopper in a cuckolding dynamic is for the cuckold to feel genuinely anxious or afraid of losing their cuckoldress (aka their female partner).
Insecurity does NOT support a healthy sex life, no matter how many people are involved.
So taking the power structure out of play for at least a single conversation allows for you both to express your desires & fears in a non-sex focused way. It's also REALLY helpful to have at least a couple more of those conversations after the new experiences have started. You can keep the power dynamic with the conversation if you're more comfortable doing so, but there needs to be space for your husband to openly express any fears or concerns, and then you can figure out what to do about it.
Once that's done and everyone is officially on board, it's time to get to the sexy stuff! I don't know how involved your husband is with your lover in terms of face to face time, but if that hasn't happened yet start with verbal descriptions and dirty talk. Tell your husband every sexy thing you plan on doing to him and all the sexy (and humiliating) things your lover is going to do to him. Sharing fantasies is a way many couples introduce even the idea of cuckolding into their relationship, even if they don't use that particular word. Remember that what is an incredible turn on in fantasy can be problematic when brought to life, sometimes surprisingly so.
Since you've already been exploring cuckolding and chastity in the last few months, I'll guess that you've done a lot of the dirty talk and fantasy exploration already. So now it's about introducing your husband to submitting to your lover.
I'm a big believer in starting slow, it's easy to build up the intensity but it's hard to come back from a boundary that wasn't really ready to be pushed.
You can start by having your husband kiss your lovers shoes when your lover comes to pick you up for a date. It's also fun to give your lover a more dominant title that your husband must use to address him. Something as simple as "Sir" is always nice, or you can get creative with something along the lines of "Mr. Well-Endowed" or "Real Man" or a title that's relevant and specific to your own relationship and fantasies. A bit of groveling & respectful appreciation that your lover is satisfying you when your husband can't is also a soft intro to a D/s dynamic for them.
Physical touch is something that should also be introduced once the small acts of submission have become more comfortable. Perhaps when your husband is kissing your lovers shoes/feet, after he's done your lover can rest his foot on the back of your husbands head. Not to crush it down, but so your husband can feel its weight and start to feel the excitement of being "under" your lover.
Adding the humiliation bit can take a variety of forms. You can have your husband get locked in his chastity cage in front of your lover, sort of like a ritual that constantly re-establishes his submission to your pleasure and as an extension of your pleasure, your lover. Your lover can call your husband while you're out on a date or enjoying some hot sex and give your husband instructions about what to do for you once you get home.
Having your husband help you prepare for you date is of course a classic, and you might already be doing that. If you aren't, start!
Get your husband into that chastity cage and then have him watch you try on sexy lingerie and outfits that you'll be wearing for your lover, or your husband can be the 'fluffer' and give you a couple of orgasms orally before you head out, all the while with you telling him how your "stud" is going to really satisfy you. It can also be fun to call your husband while you're having sex with your lover and just leave the phone on next to wherever you're fucking, so your husband can hear all the sounds. This can also be a good time to do verbal with all three of you, having your lover, while fucking you, dirty talk (so your husband can hear it over the phone) about what a 'pansy' or 'loser' (or whatever words you use in your cuckolding experience) your husband is and how he's fucking you like you deserve to get fucked.
I don't recommend allowing your lover to just jump into doing whatever he wants to your husband.
You are the dominant in your relationship with your husband and you do have a responsibility to keep him ultimately safe. Make sure your lover knows any hard boundaries both with physical actions and verbal play.
Take it in steps, depending on what your ultimate goals are. Fantasy & verbal exploration. 'Small' acts of submission by your husband to your lover. Introducing dominant touch by your lover to your husband. Letting your husbands submission to your lover grow authentically, like I'm sure it did with you, sets you all up for a more positive experience.
This article was originally posted on CoachingByKali.com