Erotic Degradation at a Distance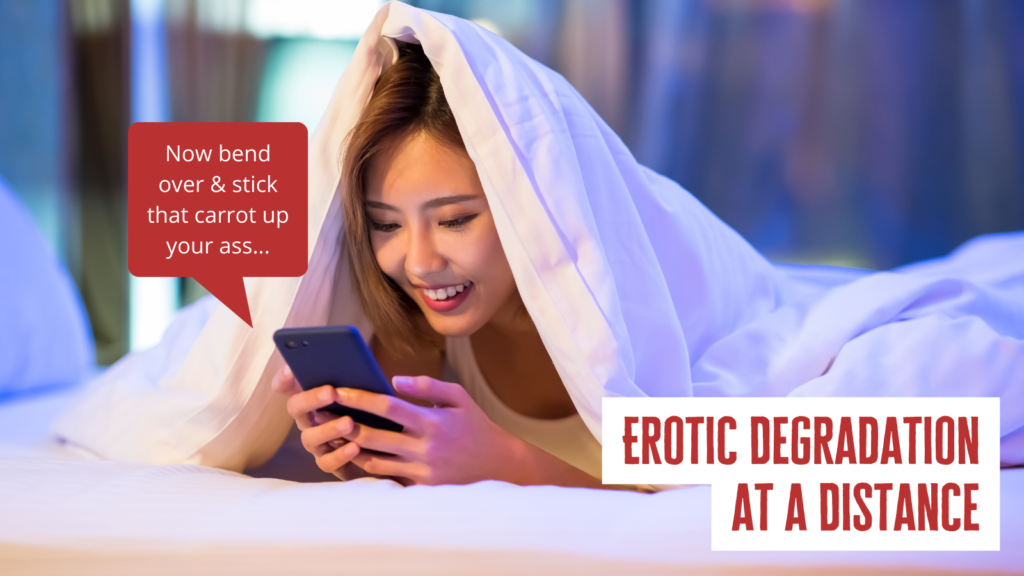 Long distance relationships are more common than ever in the internet age and that's particularly true in the kink community where our relationship and sexual needs are, well, very particular.
Kinksters meet online or at events where people have traveled from all over the country (and sometimes the world) to play and watch and moan and whip and sweat and giggle with each other. When we reveal our deepest selves and most taboo desires, we often find that unique connections are forged in the heat of sexual and energetic adventures. Connections which we're rightfully loathe to let go of simply because there's a few miles of land (and perhaps sea) between us.
So we use technology and our imaginations to keep those connections going no matter where we are in the world. Thankfully kink lends itself well to psychological experiences, and that's especially true for erotic humiliation play. So much of what we're after in psychological torment is happening in the mind, the physical actions play more of a supporting role than bondage and impact where the need to be in the same room is a critical aspect of the interaction.
Of course it's a lot more fun to be able to reach out and smack my slut in the face with my own hand! But it suits the kind of degradation play we enjoy to have him do it himself, and after all I am a fan of getting submissives to participate actively in the creation of scenes.
There are so many erotically embarrassing, humiliating, and degrading ways to play even if you can't be physically together.
With an open mind you can see it as an chance for creativity instead of an obstacle or inconvenience.
For dominants, now is the time to explore the power of the command. Use an assertive tone to tell your submissive exactly what you want from them. Be very specific. Use language and tone of voice to establish headspace without touch or physical presence.
For submissives, practice your begging skills (if you're into that kind of thing!) and/or brainstorm some ways you can amuse your dominant from a distance. Don't forget that "Kink is a Team Sport" and you're partially responsible for having a kinky, sexy good time.
We live in a world of incredible technological connection, so use that to facilitate your long-distance kinky adventures –
Performing amusements over webcam or Facetime is a no-brainer
Set the alarm on your partner's phone as a command/reminder to do something dirty
Send all photo documentation of perversions performed
Some other ideas include:
Social Media offers a dedicated space for you to express all your humiliation experiences and fantasies. Lots of kinksters have an anonymous Twitter or Instagram account (depending on how graphic you want to be) to post photos and thoughts and interact with other kinky accounts. You could easily have a private account for only you and your partner.
My submissives have always been required to set up an 'altar' where they can kneel have a quiet moment to get into the proper headspace for a humiliating task I've assigned.
How do you keep an erotic humiliation focused connection going when in a long-distance relationship? Leave a comment and share!
Save
Save