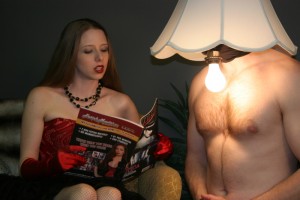 Princess Kali has spent over eighteen years exploring not only the how but the why of alternative lifestyles. Her experience working as a professional dominatrix has given her a unique understanding of the motivations behind erotic humiliation play as well as a passion for helping people participate in it more safely and enjoyably. Her dynamic and engaging style of presenting has been welcomed at more than 150 venues including kink events such as Dark Odyssey, Fetish Fair Fleamarket, Kink in the Caribbean, and IMsL as well as mainstream venues such as Harvard University and SXSW.
As the founder of Erotication.com she is a pioneer of the "kinktrepreneur" business model, creating sites such as Kink Academy, Passionate U, and Fearless Press  for easy access to adult sex and BDSM education. Her work continues to inspire and support many other kink educators, writers, and enthusiasts. She's also the author of 5 books; Enough To Make You Blush: Exploring Erotic Humiliation and companion workbook, Authentic Kink, 365 Days of Kink Journal, and The Yes, No, Maybe Workbook.
Princess Kali is currently focusing on personal coaching and group workshops to help people safely discover their own style of kink with the benefit of her experience and guidance. Kali resides in the San Francisco area but travels often for workshops and events.
Save