Can you believe I've never brought my kinky goodness to Portland, Oregon? Well, neither could I so I whipped up a trip to remedy that little oversight!
Three straight evenings of my favorite workshops at a couple of the finest sex education establishments in PDX. Thanks so much to SubRosa and SheBop for hosting me.
There's a high likelyhood that these classes will sell out, so don't wait until the minute and miss out. Click on the links and reserve your seat today :)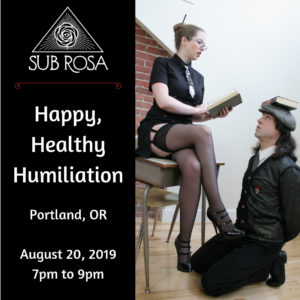 August 20, 2019 – Happy Healthy Humiliation at SubRosa
7pm to 9pm
Humiliation is such a complex and varied fetish that many lifestyle and professional players hesitate to delve very deeply into the many fun options for embarrassing, degrading or humiliating their submissive. After attending this workshop however, both light and heavy players will be equipped with exciting new ideas to use and expand upon. Everything from dehumanization, to chastity training, to verbal humiliation and water-sports will be discussed, as well as How to Humiliate Happily- the ways to make sure that everyone is getting what they need from the experience.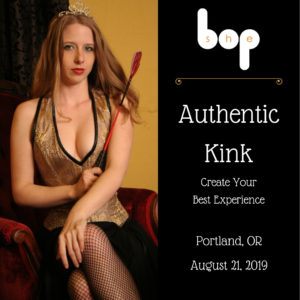 August 21, 2019 – Authentic Kink at SheBop
7:30pm to 9:30pm
Kinksters often have to depend on erotica and porn to learn what kink looks and feels like, but unfortunately that can create a lot of myths, misunderstandings and accidental mistakes. BDSM is so focused on activity, but just because you're going through the motions doesn't mean you'll have a happy, healthy experience. It can take years (and plenty of bad scenes) to help you learn exactly what you enjoy and why. But it doesn't have to if you spend time reflecting on your needs and limits ahead of time.
In this class Princess Kali will use storytelling and engaging discussion teach you how to have the most authentic and fulfilling kink experience possible.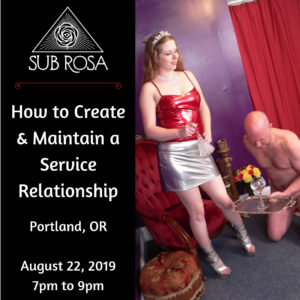 August 22, 2019 – How to Create & Maintain a Service Relationship at SubRosa
7pm to 9pm
The term "service" often conjures images of household drudgery. But there are many ways someone can be "of service" beyond household tasks, including fetish service, sexual service, and so much more.
For some kinksters, there's nothing like scrubbing away at the floor or toilet while a stern dominant looks on in silent judgment, or ignores them from the next room.  But if you think unwashed dishes and dirty laundry are the only options, this class will expand your service horizons no matter which side of the dynamic you're on.
Many tops and dominants dream about having a well-behaved service submissive to call their very own. But finding one pre-trained can be rough and training away bad behaviors can be even rougher! Thankfully, there is a solution to make the process smoother for both sides.
Join Princess Kali as she shares tips and techniques for anyone in a service based relationship (or anyone who wants to be!)