When I started writing Enough to Make You Blush I knew that due to the extremely personal nature of erotic humiliation I would have to offer perspectives other than my own in order to truly do the subject justice. Thanks to the wonders of the internet, I created an online survey and started to get the word out looking for responses from my network (and my networks network.)
The responses are from a self-selecting group of people who found the survey mostly through Twitter, Fetlife, and my personal blog.
I grateful to the more than 400 people who responded before the launch of my book (and the nearly 200 people who have responded since) because it gave me a chance to peek into an larger pool of awesomely perverted minds than I have even over my extensive career.
The comments I've included in this post are a small selection of the 200 quotes from more than 60 kinksters that are included in Enough To Make You Blush.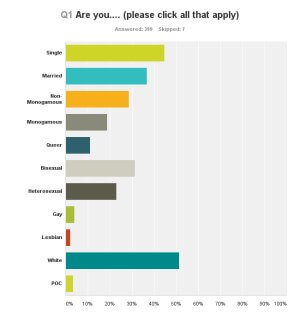 Since I have an audience on social media that is heavily skewed towards male submissives there's certainly a lot of responses from them. But I tried hard to promote it outside of that demographic in order to get a broader range of gender & sexual identities.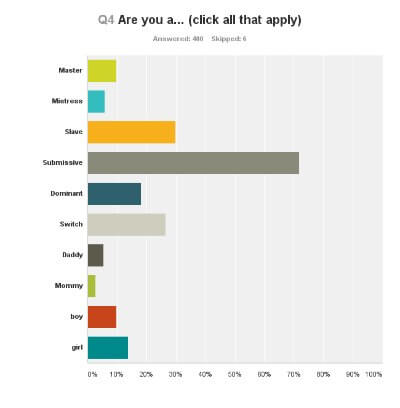 Like most kinky interests, there's a smaller number of people who require erotic humiliation for arousal than the much larger number of people who list it as one of many kinky interests.
Humiliation is probably the cornerstone of submission for me, everything else stems from it. It is the mental/emotional aspect which excites me most.

– Anonymous

Most humiliation play isn't about orgasm for me. It's not required, but [it is] how I most enjoy orgasm. I will say it's one of my deepest play desires and it feels like a drug to me.

– Boundprincess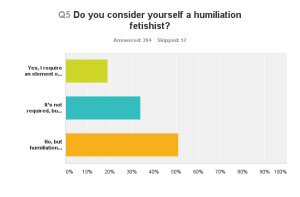 Do you consider yourself a humiliation fetishist?
Yes, I require an element of humiliation for me to climax – 19%
It's not required, but it's how I most enjoy orgasm – 34%
It's not required, but it's how I most enjoy orgasm – 51%
What level of erotic humiliation do you enjoy? (Choose as many as apply)
Embarrassment – light playful teasing – 74% (293 people)
Humiliation – more mean spirited 77% (304 people)
Degradation – hard core cruelty 43% (172 people)
Save
Save