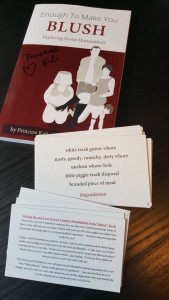 Due to popular demand, I've decided to continue availability for the Gift Pack!
I am delighted to announce the release of the newly redesigned Scene Starters© deck to go along with my recently released book – Enough To Make You Blush: Exploring Erotic Humiliation.
The Creative Humiliation Scene Starters Deck includes over 200 "filthy phrases" in over 20 categories to help inspire more creative verbal humiliation during your kinky play. There are multiple ways to use the cards, both during & before a scene.
The original deck has been unavailable the last few years due to being sold out of the first run, but now, with 50 cards, it's been updated, revised & improved!
Your Gift Pack includes:
An autographed copy of Enough To Make You Blush: Exploring Erotic Humiliation (regularly 14.99*)
A Creative Humiliation Scene Starters Deck in a durable plastic case (regularly 19.99*)
A one-month bonus membership to KinkAcademy.com (regularly $25)
This package is regularly priced at almost $60, but it can be yours for only $35*
* Plus shipping
** Sorry, no international orders available at this time